THE MAJESTIC SPA
Distinctively appointed in the art deco style of Scottish architect and designer Charles Rennie Macintosh's Willow Tearooms, The Majestic Spa offers something different.
Turn of the century England was not only a period of social grace and tradition, but also of progress and change. The Willow Tearooms of Scotland became iconic gathering places for businessmen to meet, read the paper or discuss politics, and an elegant environment for proper ladies to lunch, play cards and socialise.
Serving as home to many British expatriates, British Malaya also embodied the feeling of this transitional time. Although longing for the comforts of their home, these "strangers in a strange land" adapted to all things new and exotic, finding the experience both fascinating and daunting.
True to the spirit of this time, The Majestic Spa reflects upon a golden era in Malaysian history. Spa Experiences offered include the Malaya Golden Chersonese and English Afternoon Tea.
As part of our elevated safety protocols to provide a safe and seamless experience for you, an advance reservation of 24 hours is required.
Please call/WhatsApp +60 18 631 6885 or email mspa@ytlhotels.com
-->

A'La Carte Menu
Massage
Treat yourself to one of our deluxe Majestic massages. Each 90 minute session includes the Gifts from the Garden foot scrub and Rosemary scalp treatment.
Swedish
50 Mins RM300 / 80 Mins RM375
This classic Western oil massage works predominantly with the muscles, soft tissues and joints, utilising long, rhythmic strokes. Please request light, medium or deep pressure.
Aroma
50 Mins RM300 / 80 Mins RM375
The powerful effects of aroma on the body and mind, combined with a technique designed to elicit a feeling of profound relaxation, make this massage an ideal choice for anyone who wishes to reduce stress. To ensure quality and achieve the desired effects, we have produced our own blends of aromatherapy oils.
Malaya
50 Mins RM300 / 80 Mins RM375
The art of traditional Malay massage is passed on from generation to generation. The technique consists of long kneading strokes that focus on the muscles and pressure applied to various points on the body. This treatment uses our signature Bunga Rampai oil for her or East Indian Spice oils for him.
Herbal Sports*
2 Hrs RM600
Strengthen your body and receive the revitalising effects of this herbal poultice treatment. Our therapeutic herbal blend of rosemary, thyme, mint, lavender and rose are steamed and applied to the body to reduce muscular aches and pains. Combined with firm kneading massage and stretching, this experience is not to be missed.
Facial
The Majestic Spa is proud to feature Kerstin Florian skin care. Developed by Swedish born Kerstin Florian, this luxury collection of products sources only the finest and most potent ingredients from around the world, artfully blending science and nature, and instantly earning its reputation as an effective, indulgent and result oriented skin care line.
Cellular Firming Facial
80 Mins RM575
A truly decadent yet effective treatment, this facial is designed to reduce the visible signs of aging. A spirulina algae masque packed with protein, vitamins and minerals is utilised to improve the skin texture. Coupled with the specialised Chitosan masque to promote elasticity, these two powerful ingredients combat hyperpigmentation, smoothing fine lines and leaving tired skin with a healthy glow. Includes hand and lower leg massage.
Classic European Facial
50 Mins RM375
Our skin care specialists will custom design this facial for your specific needs. This classic treatment includes cleansing, exfoliation, masque, massage and moisturising treatment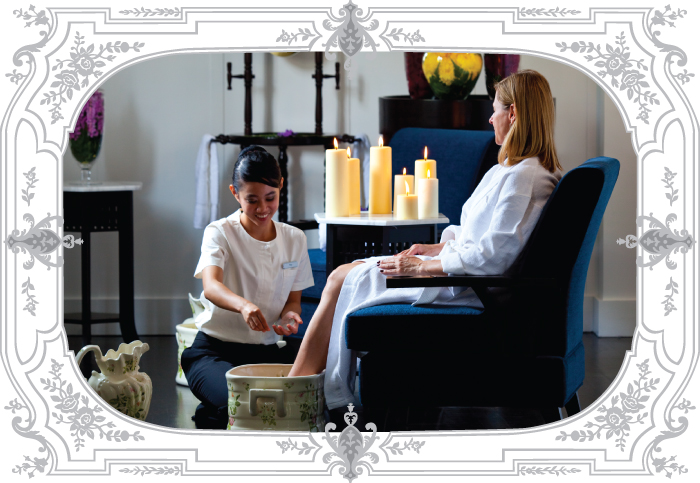 THE MAJESTIC SPA MEMBERSHIP
The Majestic Spa, located in the iconic Majestic Hotel Kuala Lumpur, reflects upon a golden era in Malaysian history. Your membership is designed to allow the ultimate pampering in a luxurious and indulgent haven. Treat yourself to a delightful and exceptional rejuvenating experience.
YOUR MEMBERSHIP BENEFITS
2 complimentary Dining vouchers for 2 at Contango.
1 Complimentary Stay in A Colonial Suite at The Majestic Wing For 2 days/1 night
10 Complimentary Spa Treatments at The Majestic Spa
(with a choice of listed spa treatments)
20% discount off afternoon tea at the Tea Lounge
(up to maximum of 4 persons and not applicable for weekends and public holidays)
Usage of gym and spa pool
As part of our elevated safety protocols to provide a safe and seamless experience for you, an advance reservation of 24 hours is required.
Please call/WhatsApp +60 18 631 6885 or email mspa@ytlhotels.com.my